Guide to Mens Swimwear

From swim trunks to boardshorts, men are getting more stylish
Men's swimwear fashion has changed considerably in the last 100 years. A century ago it was common for men to swim au naturel (in their birthday suit!). But as men and women started swimming together it became important for men to find something to wear. Early swimsuits were made of wool and looked more like old fashioned underwear. The wool was stretchable and evidently did not absorb too much water.
Fast forward to 1920 and tank suits were popular among many male swimmers. They originally had arms that went all the way down the elbow and trunks that went below the knees, however as manufacturers started producing swimsuits that emphasised the man's body and athleticism, the material reduced. The previously long sleeves were replaced by more generously cut armholes and the bathing suits started getting shorter and resembled singlets attached to men's swim trunks.
Swim trunks became popular by the 1950s and 1960s especially amongst the younger generation of men. Showing lots of skin, trunks became fashion statements in varieties of colours. By the 1960s athletic bathers were also in fashion, especially amongst serious swimmers, which left even less to the imagination.
Big surf brands redefined boardshorts in the 1980s. Originally designed to protect men's legs from wax on the board (which pulled out your leg hair), the surf brands made boardshorts in all shapes and colours with their logos all over them, and they became popular amongst surfers and non-surfers alike. 
Modern swim shorts have increased their appear in the last few decades. The big surf brands have reduced their dominance in mens swimwear, and more independent labels have emerged targeted the non-surfer market.
Modern mens swimwear styles
Today's mens swimwear has three styles, characterised by their length and comfort. All three are made by major men's swimwear labels in every color imaginable. Choosing between them comes down to what activities you are looking to do in them, your body shape and what you are going to look good wearing and what you feel comfortable wearing.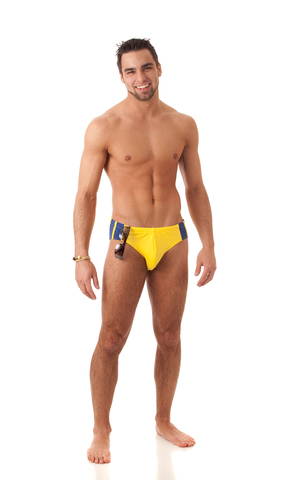 Athletic swimwear tends to be closer to mens boxer brief underwear in appearance and are tight fitting. They are often referred to as "Speedos" which is a trademarked swimwear brand. In Australia, we like to call this type of swimwear "Budgie smugglers", and you can read more about why we call them Budgie smugglers here.
Athletic swimwear is truly functional for the serious swimmer. They are easy to wear under other clothes, they don't add drag to your swimming speed like traditional bathers, and they are super quick to dry given they contain such little material.
The downside of athletic swimwear is that they leave nothing to the imagination. If you have a great body with a 6-pack of abs, this type of swimwear can be great for showing off your hard work from all your training. If you don't have the perfect body or aren't a serious swimmer, we recommend sticking with swim trunks which will be more flattering.
Mens Swim trunks / Swim Shorts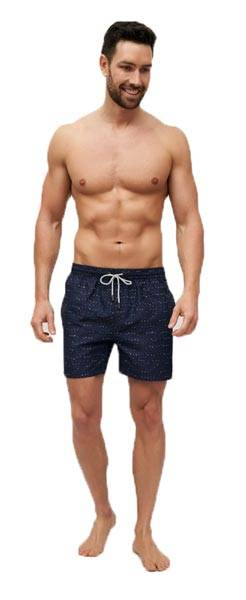 Swim trunks (or swim shorts) are more short-like in appearance and typically extend to above the knee on the average height man. They offer a midpoint between athletic swimwear which looks more like underwear and board shorts which are typically longer in length and extend beyond the knee.

Looking like shorts you could wear to the beach or around town, swim trunks are produced using light, quick drying materials (generally nylon or polyester). Lengths and fit styles can vary widely but most will feature a flexible/elasticated waist band with draw string. Some trunks will come with inner lining/mesh which means you don't have to wear underwear underneath them, however even if the trunks do not have lining, provided the material is sufficiently thick you should not have to wear underwear.

Trunks or swim shorts are the most common swimwear for the modern man and a great choice to keep you looking great and on trend at the beach. Unless you are an athletic swimmer or surfer, we recommend swim trunks as being the perfect swimwear for most guys.
Bondi Joe's swimwear are like swim trunks in terms of length and fit.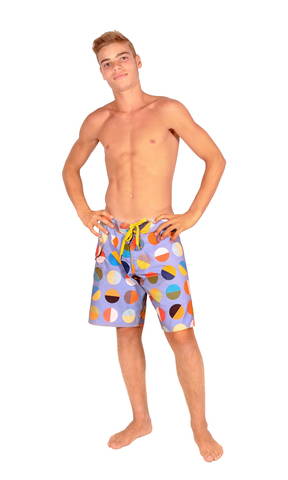 Board shorts are typically longer than swim trunks and extend in length to either on or past the knee. Initially created for board sports (surfing, paddle boarding etc), they were intended increase mobility and makes it easier for you to mount the board.
Most board shorts will have a Velcro fly and button. They will not typically have drawstrings or mesh/net lining.
Board shorts were the huge fashion in the 1980s and 1990s, rising in prominence with the big global surf brands. Whilst they will also be a popular swimwear choice for board sport lovers, the biggest issue we have with boardshorts is that guys who don't surf or aren't into board sports can seem out of place wearing them. That's why we believe trunks or swim shorts that are slightly higher cut will suit most modern men.
How to choose the swimwear style for you
What are going to do in your swimwear?
The first consideration when choosing your bathing suit is what are you actually going to be doing? If are you looking to become a professional swimmer and do laps at the pool, athletic swimwear no matter what your current body shape is going to be the best option.
For most guys, the swim trunks option is going to suit most beach or pool pursuits. If you want to be able to wear your swimmers into a beachside café after your swim, make sure you get a pair that can transition to the street. You will need good pockets, and potentially no mesh/net lining as that will made them less comfortable to wear around town.
Let's face it gentlemen, if you are in shape, you can get away with wearing almost any swimwear! If however you aren't as muscled as you'd like to be, be careful about choosing your swimwear to ensure it brings out your best assets.
If you are in shape, go for tighter trunks that show your muscles, rather than hiding them behind baggy swimwear. This does not mean you have to wear athletic swimmers just because you have a great body – but choose trunks that are higher in length or closer fitted. If you love your legs, consider also wearing higher cut trunks that show a little muscle.
If you aren't in the best shape, avoid the athletic wear like Budgie smugglers because that is going to show a lot more skin. Instead, choose a good fitting pair of trunks in a color that suits your skintone.
If you are tall and have a fit body, you need not worry because you can rock pretty much any mens swimwear length. However, it is entirely a different story if you are tall but have skinny arms and legs. If you're tall and skinny, avoid boardshorts that go beyond your knees because it will make you look like you're wearing a pair of capri pants at the beach. Also, ensure that your swim trunks are not too baggy or too loose because it could make your legs look even thinner. Look for a good pair of swim trunks that have the right length to balance your proportions and with legs that are not too baggy.
Short guys tend to wear short trunks, thinking that the lack of fabric will give their legs the appearance of being longer. However, it usually has the opposite effect because shorter swimwear has the tendency to make your thighs look thicker. This in turn could make your torso look bulkier. Instead, look for a good pair of swim trunks that will come down to your mid-thigh and balance your proportions.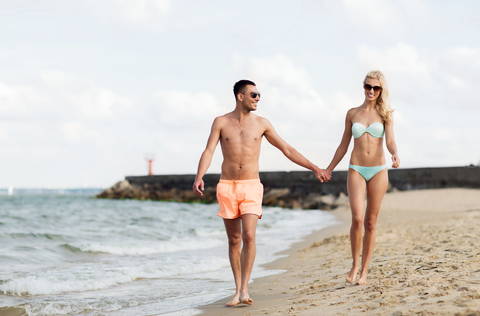 How confident are you about your body?
Looking great in any swimwear is all about confidence. No matter what your body type, you need to feel good in your swimmers and ready to face the world at the beach or hotel pool.
Choose swimwear that is going to make you feel good about yourself – both in terms of style and cut, but also color and pattern. And when you make the decision and buy the perfect pair – own them, be proud – and strut your stuff on the beach like you own it!
How to choose the perfect color or pattern
When you have decided on the perfect swimwear style, the next most important consideration is what color/pattern. Coloring can be the difference between looking dapper or a disaster as you emerge from the ocean this summer.

Firstly, let's look at how to choose the overall color of your swimwear (whether thtey have a pattern or not). According to the fashion experts, the simpliest rule when it comes to picking the color of your swim trunks is to go the opposite of your skin tone: "darker colors look incredible on paler skin, while darker skin tones are suited to brighter hues".
If you have pale complexion, stick to tones like slate, navy, and greens. Add a touch of whites or pinks in patterns to show you are on trend and not afraid of a bit of color!
At the flip side of the scale, if you have a darker complexion, don't hesitate to stretch out into brighter tints like canary yellow, sky blue, lime green, red and pastels, all of which will complement your skin tone splendidly.
Use the colors you like to typically choose for your business shirts and t-shirts as a starting point, but be bold and try others to see what works.
When choosing a color, also think about what you are going to wear your swimwear with and be sure it is going to be easy to match. If you are going to slip on a tshirt and wear your swimwear to the beach bar, you are going to need to make sure they don't clash.
Mens swimwear pattern guide
While plain colored mens swimwear can always provide a classic look, be sure to incorporate patterns into your swimwear selection to avoid looking too conservative. Here are our key tips for choosing the pattern:
For more conservative guys, choose patterns with geometric or subtle motifs and let the colouring be the bold element rather than the pattern (no garish fish patterns please!)
Be careful of stripes or patterns that can appear as stripes from a distance. Remember that horizontal stripes can make you look wide, and vertical stripes can elongate your body shape.
Avoid loud prints like Hawaiian or bold stripes if you want to get some longevity out of your swimwear and still look good for a few years. Keep it classy gents!
Prints are key fashion for spring/summer. If you can pull it off – the bolder, the better– we'd propose geometric, striped and subtle motif styles for a summer refresh.
Use the colors you like to typically choose for your business shirts and t-shirts as a starting point, but be bold and try others to see what works.
When choosing a color, also think about what you are going to wear your swimwear with and be sure it is going to be easy to match. If you are going to slip on a tshirt and wear your swimwear to the beach bar, you are going to need to make sure they don't clash.
From swim trunks to boardshorts, men are getting more stylish
The most important thing to looking great in any mens swimwear is wearing it with confidence.
Once you have chosen that perfect pair, and the day has come to wear them to the beach or hotel pool, wear them proudly! Pair them with a cool t-shirt and some on trend footwear and step out in style! Put a smile on your face and enjoy the relaxation and downtime!